To book our services, please fill in the following form. Hua Hum Ferry capacity is limited to 22 cars and 134 passengers and Ferry Puerto Fuy is limited to 33 vehicles and 228 passengers (including vehicle occupants).
Pedestrians do not require booking and residents have preference.
Transfer services: everyday from 8:30 to 18:00 hrs.
Hua Hum Ferry

Service initiation: year 2003
Length overall (from stern to bow): 123 feet
Beam (total width): 30 feet
Depth of hold: 8 feet
Gross register tonnage: 302 tons
Engine power: 2 x 489,50 HP
Top speed: 9 knots
PUERTO FUY Ferry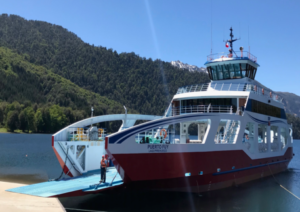 Service initiation: year 2017
Length overall (from stern to bow): 190 feet
Beam (total width): 39 feet
Depth of hold: 9 feet
Gross register tonnage: 551 tons
Engine power: 4 x 1.324 HP
Top speed: 10 knots
Reservation Form